Rockwood & Perry
Directions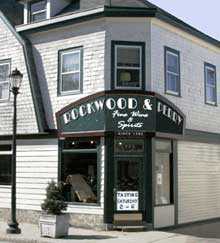 Directions
DRIVING From NYC (20 miles): Take the West Side Highway north, continue straight north while the road changes name to Henry Hudson and Saw Mill Parkways. Take Exit 12 (Hastings-on-Hudson / Farragut Parkway) and proceed along Farragut about 1 mile to first traffic light; make 90-degree left onto Main Street (not sharp left onto Broadway). Proceed downhill past A&P about ¼ mile to end of Main Street and there we are at the corner of Warburton and Main. Park in either of two municipal parking lots near the corner.
From I95 or I84: Exit onto I287 West. Take exit for Saw Mill Parkway south. Proceed about 5 miles south and take Exit 12 (Hastings-on-Hudson, Farragut Parkway). Follow directions above from Exit 12.
From East Side of Westchester County: Take Cross County Parkway west. Exit onto Saw Mill Parkway north. Take Exit 12 and follow directions above from Exit 12.
From Rockland County / Tappan Zee Bridge: Go through bridge toll booth furthest on right and take right-hand exit 100 yards after toll booth. At end of exit ramp make left (south) onto Broadway. Follow Broadway about 4 ½ miles south. Veer right at traffic light onto Warburton Avenue, Hastings-on-Hudson. Proceed two blocks to first traffic light at Warburton and Main Streets and there we are at the corner. Make right into municipal parking lot.
From New Jersey / George Washington Bridge: At eastern end of the bridge, exit onto Henry Hudson Parkway north and follow directions from NYC.
BY TRAIN FROM NYC (40 minutes) We are a three-minute walk from the local train station. Take Metro North's Croton Hudson Line at Grand Central Station. Leave the train at Hastings-on-Hudson station. Walk uphill to left exiting the station. Make first right onto Spring Street, then first right onto Warburton Avenue. Walk one block to first traffic light and we are there at corner of Warburton and Main Streets.
WE ARE LOCATED AT THE CORNER OF WARBURTON AVE AND WEST MAIN ST:
Rockwood & Perry Fine Wine & Spirits
525 Warburton Avenue
Hastings-on-Hudson, New York 10706